Philips 27" Full HD Curved LCD Monitor
Curved display design for more immersive experience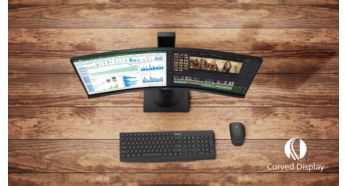 Desktop monitors offer a personal user experience, which suits a curve design very well. The curved screen provides a pleasant yet subtle immersion effect, which focuses on you at the center of your desk.
MVA Display for wide viewing angles and deep contrast levels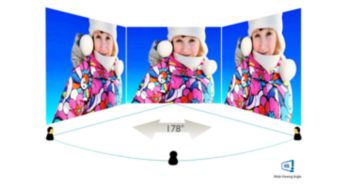 Philips MVA LED display uses an advanced multi-domain vertical alignment technology which gives you super-high static contrast ratios for extra vivid and bright images. While standard office applications are handled with ease, it is especially suitable for photos, web-browsing, movies, gaming, and demanding graphical applications. It's optimized pixel management technology gives you 178/178 degree extra wide viewing angle, resulting in crisp images.
16:9 Full HD display for crisp detailed images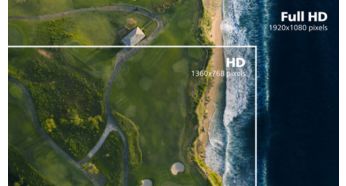 Picture quality matters. Regular displays deliver quality, but you expect more. This display features enhanced Full HD 1920 x 1080 resolution. With Full HD for crisp detail paired with high brightness, incredible contrast and realistic colors expect a true to life picture.
Effortlessly smooth gameplay with AMD FreeSync™ technology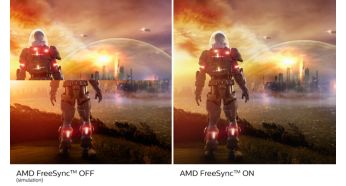 Gaming shouldn't be a choice between choppy gameplay or broken frames. With the new Philips monitor it doesn't have to be. Get fluid, artifact-free performance at virtually any framerate with AMD FreeSync™ technology.
Less eye fatigue with Flicker-free technology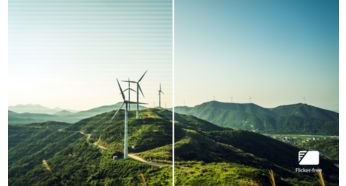 Due to the way brightness is controlled on LED-backlit screens, some users experience flicker on their screen which causes eye fatigue. Philips Flicker-free Technology applies a new solution to regulate brightness and reduce flicker for more comfortable viewing.
SmartImage presets for easy optimized image settings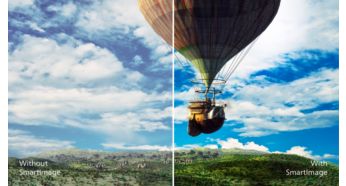 SmartImage is an exclusive leading edge Philips technology that analyzes the content displayed on your screen and gives you optimized display performance. This user friendly interface allows you to select various modes like Office, Photo, Movie, Game, Economy etc., to fit the application in use. Based on the selection, SmartImage dynamically optimizes the contrast, color saturation and sharpness of images and videos for ultimate display performance. The Economy mode option offers you major power savings. All in real time with the press of a single button!
EasySelect menu toggle key for quick on-screen menu access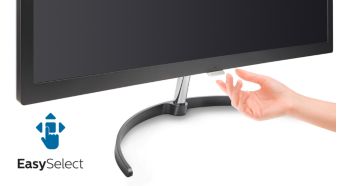 The discreetly placed EasySelect Menu Toggle Key allows you to make quick and easy adjustments to monitor settings in the On-Screen Display menu.
MHL technology for enjoying mobile content on big screen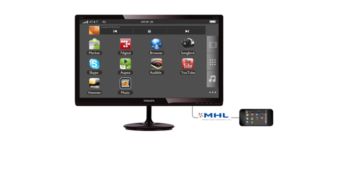 Mobile High Definition Link (MHL) is a mobile audio/video interface for directly connecting mobile phones and other portable devices to high-definition displays. An optional MHL cable allows you to simply connect your MHL capable mobile device to this large Philips MHL display, and watch your HD videos come to life with full digital sound. Now not only you can enjoy your mobile games, photos, movies, or other apps on its big screen, you can simultaneously charge your mobile device so you never run out of power half way.
HDMI-ready for Full HD entertainment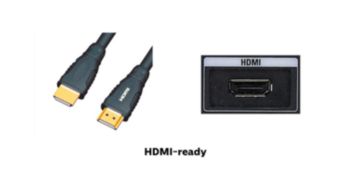 An HDMI-ready device has all the required hardware to accept High-Definition Multimedia Interface (HDMI) input. A HDMI cable enables high-quality digital video and audio all transmitted over a single cable from a PC or any number of AV sources (including set-top boxes, DVD players, A/V receivers and video cameras).
DisplayPort offers audio and video over a single, long cable
DisplayPort is a digital link from PC to Monitor without any conversion. With higher capabilities than DVI standard, it is fully capable to support up to 15meter cables and 10.8 Gbps/sec data transfer. With this high performance and zero latency, you get the fastest imaging and refresh rates - making DisplayPort the best choice for not only general office or home use, but also for the demanding gaming and movies, video editing and more. It also keeps interoperability in mind via use of various adapters.
Specifications:
Picture/Display 
LCD panel type
Backlight type
Panel Size
Effective viewing area
88 (H) x 336.31 (V) - at a 4000R curvature*
Aspect ratio
Optimum resolution
Response time (typical)
Brightness
Contrast ratio (typical)
SmartContrast
Pixel pitch
Viewing angle
178º (H) / 178º (V)
@ C/R > 10
Picture enhancement
Display colors
Scanning Frequency
30 - 83 kHz (H) / 56 - 76 Hz (V)
MHL
sRGB
Connectivity
Signal Input
VGA (Analog )
DisplayPort
MHL-HDMI (digital, HDCP)
Sync Input
Separate Sync
Sync on Green
Audio (In/Out)
3 years warranty.