Philips 24" LCD Monitor with Clinical D-image
Clinical D-image preset for DICOM part 14 Grayscale images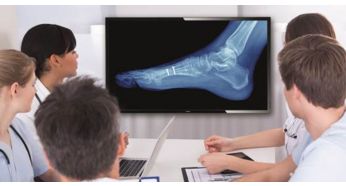 Monitors must show medical images consistently with high quality to achieve reliable interpretations. The rendering of medical Grayscale images on standard monitors is mostly inconsistent at best, making them unsuitable for usage in a clinical environment. Philips clinical review displays with clinical D-image preset are factory calibrated to give DICOM part 14 compatible Grayscale standard display performance. By using high quality LCD panels with LED technology, Philips offers you consistent and reliable performance at an affordable price point. Further info on http://medical.nema.org/
AntiMicrobial housing actively inhibits bacterial growth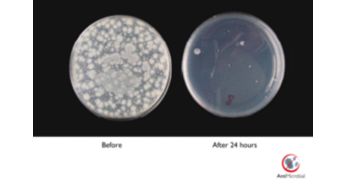 Germs have become a growing problem in hospitals and clinical environments worldwide as they can cause life-threatening infections. Philips clinical review displays take care of this challenge by using JIS Z2801 compliant antimicrobial additive in its housing material making it an integral part of the display housing. Your well being along with your patients is now assured by this protective shield that impedes the growth of most common microorganisms such as "Staphylococcus aureus (Gastroenteritis)", "Escherichia coli (E Coli)" and "Klebsiella (Pneumonia)", for example.
IPS LED wide view technology for image and color accuracy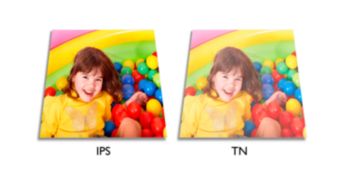 IPS displays use an advanced technology which gives you extra wide viewing angles of 178/178 degree, making it possible to view the display from almost any angle - even in 90 degree Pivot mode! Unlike standard TN panels, IPS displays gives you remarkably crisp images with vivid colors, making it ideal not only for Photos, movies and web browsing, but also for professional applications which demand color accuracy and consistent brightness at all times.
PowerSensor saves up to 80% energy costs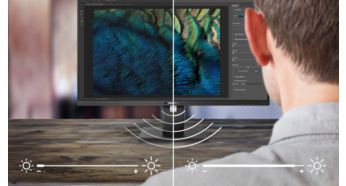 PowerSensor is a built-in 'people sensor' that transmits and receives harmless infrared signals to determine if user is present and automatically reduces monitor brightness when user steps away from the desk, cutting energy costs by up to 80 percent and prolonging monitor life
SmartErgoBase enables people-friendly ergonomic adjustments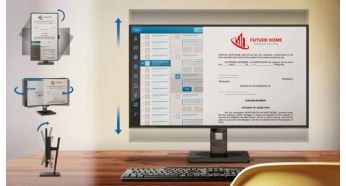 The SmartErgoBase is a monitor base that delivers ergonomic display comfort and provides cable management. The base's people-friendly height, swivel, tilt and rotation angle adjustments position the monitor for maximum comfort that can ease the physical strains of a long workday; cable management reduces cable clutter and keeps the workspace neat and professional.
Low bezel-to-table height for maximum reading comfort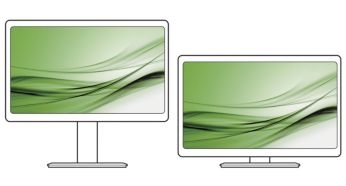 The Philips monitor, thanks to its advanced SmartErgoBase, can be lowered down almost to desk level for a comfortable viewing angle. Low bezel-to-table height is the perfect solution if you use bifocals, trifocals or progressive lens glasses for your computing work. Additionally, it allows for users with greatly different heights to use the monitor in their preferred angle and height settings, helping them reduce fatigue and strain.
SmartImage Clinic for common display settings
SmartImage is an exclusive, leading edge Philips technology that analyzes the content displayed on your screen, and based on different applications/images displayed on a monitor, SmartImage optimizes display content by dynamically adjusting brightness, contrast, color and sharpness in real time.
Medical grade power supply ensures safety with low emission
Basic safety, essential performance and reliability are essential requirements in a professional clinical environment. Unlike standard displays, Philips clinical review displays employ special medical grade power supplies in order to meet these requirements. It complies with EN/IEC 60601-1 standard ensuring basic safety and essential performance. Additionally it also complies with EN/IEC 60601-1-2 collateral standard for medical grade electromagnetic tests and compatibility. Many countries, hospitals and clinics mandate compliance to these standards as a requirement.
DisplayPort offers audio and video over a single, long cable
DisplayPort is a digital link from PC to Monitor without any conversion. With higher capabilities than DVI standard, it is fully capable to support up to 15meter cables and 10.8 Gbps/sec data transfer. With this high performance and zero latency, you get the fastest imaging and refresh rates - making DisplayPort the best choice for not only general office or home use, but also for the demanding gaming and movies, video editing and more. It also keeps interoperability in mind via use of various adapters.
USB Hub with 4 ports for easy connections
USB Hub allows user to conveniently connect their plug and play multimedia devices such as USB memory devices, camera, portable HDD, Web camera, PDA, Printer and many other devices which has USB connection available. The conveniently located USB 2.0 Hub on the monitor allows USB 2.0 signals to pass thru to the computer. Note that many devices like cameras and HDD may need to be powered On independently, as they have higher power requirements than the monitor USB Hub can provide.
Built-in stereo speakers for multimedia
A pair of high quality stereo speakers built into a display device. It can be visible front firing, or invisible down firing, top firing, rear firing, etc depending on model and design.
Specifications: 
Picture/Display
LCD panel type
Backlight type
Panel Size
Effective viewing area
Aspect ratio
Optimum resolution
Response time (typical)
Brightness
Contrast ratio (typical)
Pixel pitch
Viewing angle
178º (H) / 178º (V)
@ C/R > 10
Display colors
Scanning Frequency
24 - 94 kHz (H) / 48 - 85 Hz (V)
sRGB
Picture enhancement
DICOM
Clinical D-image
DICOM part-14
DICOM calibrated brightness
Connectivity 
Signal Input
DisplayPort 1.2
DVI-D (digital, HDCP)
VGA (Analog )
USB
Sync Input
Separate Sync
Sync on Green
Audio (In/Out)
PC audio-in
Headphone out
Built-in speakers
3 years warranty.