Netgear Nighthawk AC2300 Smart WiFi Router with MU-MIMO (R7000P)
Faster and Farther
The best 802.11ac WiFi router, just got better! Built with gaming, streaming and mobile devices in mind, this gigabit WiFi router supports MU-MIMO for simultaneous streaming and delivers extreme speed so you enjoy less lag and less buffering. Newest generation WiFi technology increases your WiFi coverage while reducing dead spots. With Beamforming+ and built in high powered amplifiers and external antennas, get ready for extreme performance! Access and control your router from anywhere using features such as NETGEAR genie® remote access, ReadyCLOUD®, OpenVPN®, and Kwilt™ app. Frustration-free fast install using NETGEAR Up app to get online in matter of minutes. Using Amazon Alexa™, control your home network with voice commands.
Built for Gaming, Streaming and Mobility
NETGEAR Nighthawk AC2300 Smart WiFi Router was built to handle all your high-bandwidth online activities with features that will keep you connected at top speeds. With the powerful 1GHz dual-core processor and Dynamic QoS, Nighthawk can prioritize bandwidth to your game so other devices on the network don't slow down your connection. Enjoy uninterrupted video streaming with limited buffering for streaming applications like YouTube®, Netflix®, and others. And with features like high performance external antennas, and Beamforming+, you can enhance your mobile speeds by up to 100%, so you can roam freely throughout your home without fear of slow or dropped connections.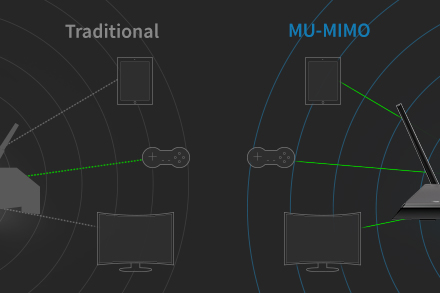 Multi-user MIMO (MU-MIMO)
Using Multi-User MIMO technology, NETGEAR routers can stream data to multiple devices simultaneously. With MU-MIMO, your WiFi network can deliver faster throughput to every MU-MIMO connected device. That means faster downloads and smoother streaming for your devices.
Dynamic Quality of Service
If you like gaming and streaming videos, then you'll benefit from Dynamic Quality of Service (QoS). Dynamic QoS resolves Internet traffic congestion when you have competing Internet demands at home. Dynamic QoS identifies your online activities by application and device, and then utilizes bandwidth allocation, and traffic prioritization techniques, to automatically allocate more bandwidth to latency sensitive applications like online gaming and video streaming, while ensuring that lower priority applications continue to work.
Simple and Secure Cloud Storage
Access and share your files stored on a USB Drive through NETGEAR ReadyCLOUD® USB Access. Simply plug your USB hard drive into your NETGEAR® Nighthawk™ WiFi Router to create secure personal cloud storage. Enjoy the convenience and accessibility of Google Drive™ and Dropbox®without the fees, storage limitations, or privacy concerns. Using the ReadyCLOUD mobile app or web portal, you'll now have anytime, anywhere access to your USB drive at home… it's that easy! 
WiFi Technology
802.11ac Dual Band Gigabit
Speed and Range

WiFi Performance
AC2300 WiFi (1625 + 600 Mbps)†
WiFi Band
Simultaneous dual band 2.4 & 5GHz
Beamforming
Beamforming+ — Boosts speed, reliability and range of WiFi Connections for 2.4 and 5GHz
Number of Ethernet Ports
Five (5) 10/100/1000 Mbps—(1 WAN & 4 LAN) Gigabit Ethernet ports
Number of USB Ports
Two (2) USB ports—one (1) USB 3.0 & one (1) USB 2.0 port
Key Features
AC2300 WiFi (1625 + 600 Mbps)† speeds
MU-MIMO—Simultaneous streaming of data for multiple devices
Dynamic QoS—Prioritizes network traffic by application & device
1GHz Dual-Core processor– Better video streaming, lag-free gaming, surfing and more
Smart Connect—Intelligently selects the fastest WiFi band for every device
High-Performance Antennas—Better WiFi coverage & faster speeds
Two USB Ports—One (1) USB 3.0 & One (1) USB 2.0 for faster streaming, backup and easy access to your stored media
5 Gigabit Ethernet ports for faster file sharing and transfers
Beamforming+—Improves range & performance plus for both 2.4 and 5GHz devices
NETGEAR Up app—Easily set up, update, and configure your router
NETGEAR® genie® App—Personal dashboard to monitor, control and repair your home network, includes remote access
ReadyCLOUD® USB Access—Personal & secure cloud access to USB storage anytime, anywhere
ReadySHARE® Vault—Free software for automatic PC backup to a USB hard drive connected to the router
Kwilt—View and share all your photos from social media and now from your Nighthawk Router attached USB storage
OpenVPN Support—Secure access to your home network and Internet when away from home using any device
Enhanced Parental Controls to manage web filtering & accessibility by profiles or devices
Guest network access—separate & secure
OpenVPN Connect app on iOS and Android, securely access your home network from your mobile device.
Free automatic backup software for Windows® PC & Time Machine® compatible for Macs
IPv6 Support (Internet Protocol Version 6)
On/Off LED lights option
Security
Wi-Fi Protected Access® (WPA/WPA2—PSK) and WEP
Guest network access—separate & secure
WiFi Protected Access® (WPA/WPA2—PSK)
Double firewall protection (SPI and NAT)
Denial-of-service (DoS) attack prevention
Memory
128 MB flash and 256 MB RAM
Physical Specifications
Dimensions: 11.22 x 7.26 x 1.97 in (285 x 184.5 x 50 mm)
Weight: 1.65 lbs (750 g)
Product Diagram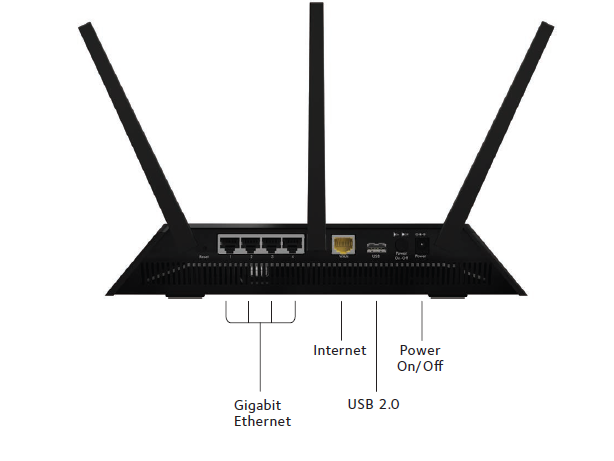 Package Contents
Nighthawk AC2300 Smart WiFi Router
Three (3) detachable antennas
Ethernet cable
Quick install guide
Power adapter
Standards
Two (2) USB ports—one (1) USB 3.0 & one (1) USB 2.0 port
IEEE® 802.11 b/g/n 2.4 GHz
IEEE® 802.11 a/n/ac 5.0 GHz - 1024 QAM support
Five (5) 10/100/1000 Mbps—(1 WAN & 4 LAN) Gigabit Ethernet ports
System Requirements
Microsoft® Windows 7, 8, 8.1, Vista®, XP®, 2000, Mac OS®, UNIX®, or Linux®
Microsoft® Internet Explorer® 5.0, Firefox® 2.0, Safari® 1.4, or Google Chrome™ 11.0 browsers or higher
3 years warranty.