Logitech Slim Combo Case for iPad Pro
PRO BEYOND
FOUR VERSATILE MODES
A protective cover and detachable keyboard supports 4 use modes - Typing, Viewing, FaceTime, Reading - giving you amazing versatility
ALL PRO. ALL DAY. ALL NIGHT.
Full-size backlit keys, smart iOS shortcuts and the most laptop-like typing experience on iPad Pro.
CONNECT LIKE A PRO
Batteries aren't included, because you'll never need them. Place your iPad Pro into Smart Connector and your keyboard instantly pairs and powers on.
PRO STYLED PERFECTION
360 degrees of protection in an impossibly slim keyboard and case combo for 12.9 inch and 10.5 inch iPad Pro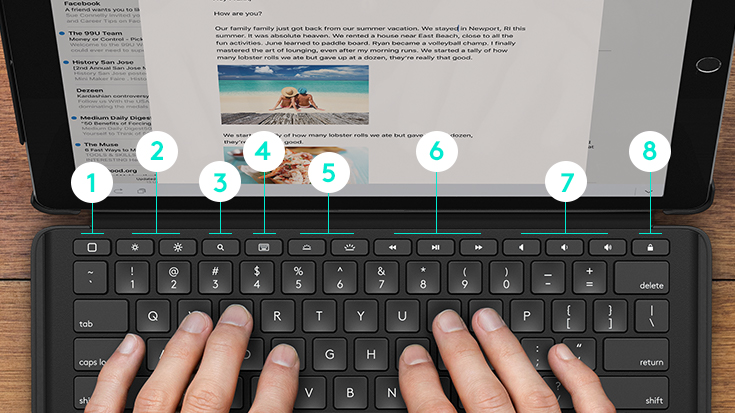 IPAD PRO CONTROLS AT YOUR FINGERTIPS
A full row of iOS shortcuts puts the power of iPad Pro at your fingertips:  

1 - Home: Go to home screen
2 - Screen brightness: adjust screen brightness up or down
3 - Search: bring up iOS search field
4 - Virtual Keyboard: shows/hides the virtual keyboard
5 - Backlighting: adjust brightness of keyboard backlighting
6 - Media controls: Back, Play/Pause, Forward
7 - Volume controls: Mute, Volume up, Volume down
8 - Screen on/off - locks iPad Pro screen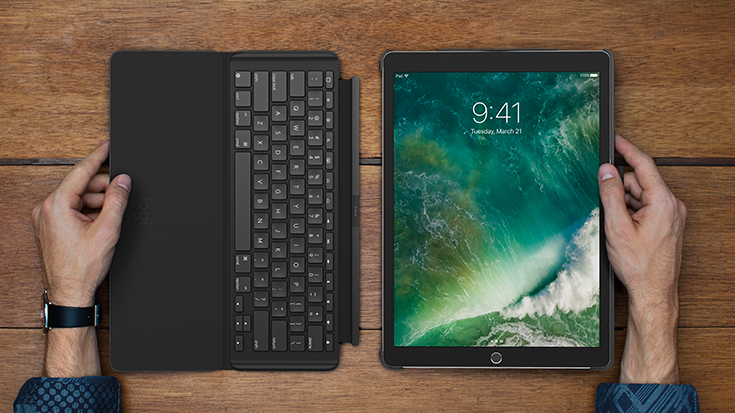 LEAVE THE KEYBOARD BEHIND 
Whenever you don't need typing, detach the keyboard and enjoy your beautiful iPad Pro screen with nothing standing in the way.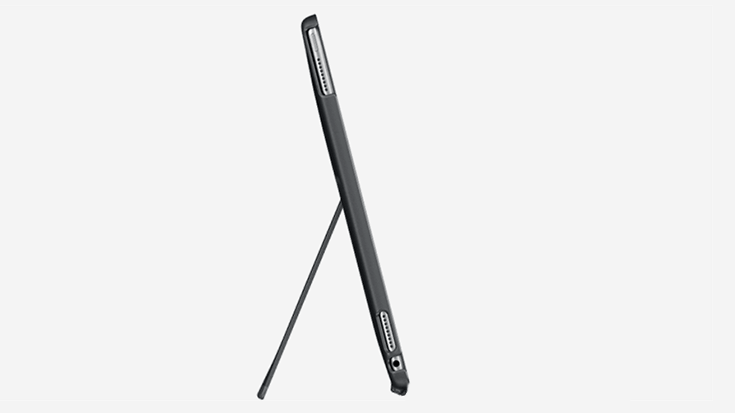 ALL THE RIGHT ANGLES
There's a right angle for every situation – and it's not always 90 degrees. Two micro hinges ensure that Slim Combo smoothly reclines within 50 degrees range and stays in place once you've got that perfect setting.
DIMENSIONS

Height x Width x Depth: 311 mm x 230 mm x 26 mm

Height x Width x Depth: 258 mm x 184 mm x 27 mm

PACKAGE CONTENTS

Case with detachable keyboard

TECHNICAL SPECIFICATIONS

Power and charging

Powered directly by iPad Pro via Smart Connector - does not have batteries or charging cables

Power usage

iPad Pro 12.9 inch: 1 hour of typing with backlighting off will use 0.3% of iPad Pro battery, with backlighting at maximum level - 1.6%

iPad Pro 10.5 inch 1 hour of typing with backlighting off will use 0.4% of iPad Pro battery, with backlighting at maximum level – 2.3%

Keyboard

Full size keyboard with 19 mm key pitch

Scissor keys mechanism with 1.5mm key travel

3 adjustable levels of backlighting

Foldable palm rest (12.9 inch model only)

iOS shortcuts

Dedicated row of shortcuts (left to right):

Home - serves the same function as iPad Pro home button

iPad Pro Screen Brightness down

iPad Pro Screen Brightness up

Search - brings up search field

Keyboard backlighting brightness down

Keyboard backlighting brightness up

Media control - Previous Track / Rewind back

Media control - Play/Pause

Media control - Next Track / Rewind forward

Lock - locks iPad Pro screen

Connectivity

Connects to iPad Pro directly via Smart Connector. Provides secure physical connection between the keyboard and iPad Pro

Does not require

 

Bluetooth

 

pairing

Automatically updates firmware, as necessary when connected to iPad Pro via Smart Connector

Stand

In landscape mode holds iPad Pro at any angle in within 50 degrees range: from 20 to 70 degrees

In portrait mode holds iPad Pro at one angle  - 73 degrees

Power management

Backlighting automatically turns off 8 seconds after the last key stroke

iPad Pro auto on/off when keyboard opened /closed

Materials and finishes

Outside: plastic and high performance technical fabric with PU coating for spill-resistance